Bentgrass for Home Lawns – Description, Advantages, Maintenance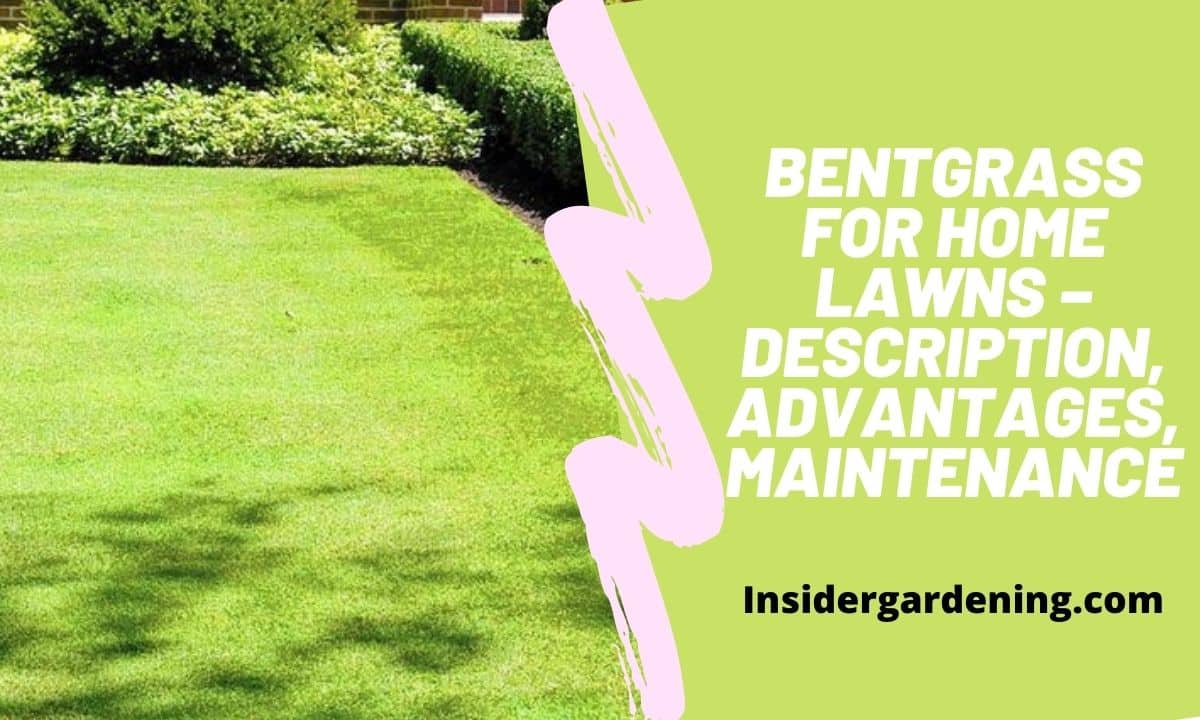 Bentgrass is one of the most beautiful types of grass you will ever see. Just ask any golfer as he stands on a bentgrass tee box, walks a bentgrass fairways, or putts on a bentgrass putting green. Even though it is very difficult to grow and maintain, many people are transitioning their lawn at their residence into a bentgrass lawn. This project is not for the weak heart as it is very expensive and can be difficult to obtain good results. However, if you take the time to learn how to plant and grow bentgrass properly, you'll be rewarded with the most amazing-looking lawn in your neighborhood.
If you are a golf course superintendent, then you already know all about bentgrass and how beautiful it is in how to best use it. The issue for the golf course superintendent with respect to bentgrass is normally where to buy it and how to obtain and grass seed at the lowest possible price.
There is probably over 100 different for varieties of bentgrass seed. Even so, only a handful of these different bentgrass seed varieties are in widespread use around the country. We will talk little bit about the different varieties of bentgrass seed and what makes them different from each other.
Agrostis stolonifera
Agrostis stolonifera is by far one of the most popular bentgrass seeds available for purchase today.  It is used by some of the finest golf courses in the country for greens, fairways, and tee boxes. Motivated homeowners have also successfully used bentgrass in their lawn, which, by the way, looks just amazing.
I followed the progress of a gentleman from Wisconsin who tore out his front lawn and seeded with bentgrass and not only does it germinate quickly, it looks amazing!
I believe it was around 37 days after he seeded when it looked fully established and ready to play on. I doubt he'll ever hit any golf balls off of it, but if he did, he's been able to drown some seed down and in short order you'd never even know there was a divot there.
Establishment & Maintenance of Bentgrass
When you plant the seed, do so in order to make sure that good seed to soil contact is made, and make sure to keep seedlings moist until they have become well-rooted. Make sure that you don't put down more than 1/4″ deep of seed.
The seed will germinate in about 7-15 days, but it all depends on what the soil temperature is, as it should be warm, but not hot
Most people find that they are able to mow the bentgrass lawn within the first 30 days. Just make sure the grass has taken root, and then go ahead and mow.
When you do mow, keep it at a 3/4 inch (19.1 mm) height of cut or lower until turf is very well established.
If you have planted the bentgrass to be a putting green, then the optimum mowing height is 3/16 – 5/16 inch (4.8 – 7.9 mm) but can be adjusted higher or lower depending upon maintenance practices and intended use.
We know you are probably really excited, so expect limited, light use of the area in about 6 weeks.
Agrostis stolonifera performs best in soils with a pH of 5.5 to 8.
Did you know tt has a moderate nitrogen requirement? Put down 1 – 2 pounds of actual nitrogen per 1,000 square feet every year, and we think you will find that is adequate for most situations.
Agrostis stolonifera performs best with sandy soils, however, it will tolerate the clay soils if you've made appropriate consideration to have adequate drainage.
We have found that bentgrass in general do not do well in wet areas; however,  bentgrass can do very well in saturated soil conditions, but only for short periods of time.
If you are planting a new lawn, or putting green, etc., then you will need 1-2 pounds of bentgrass seed for every 1,000 square feet you wish to plant. You will find that the germination of this seed is excellent at around 80%, and that because of the strict standards, and the cleaning process that this seed undergoes, the rate of weeds amongst this seed is as close to zero as you can get.
More Bentgrass Characteristics:
Strong seedling vigor
Aggressive growth and good wear tolerance
Medium-dark green color
Good Dollar Spot resistance
How Many Seeds in a Pound of Bentgrass Seed?
If you've never seen bentgrass seed, it is amazingly small. Some people have referred to it as "dust-like", but to answer the question specifically, there are something like 8,000,000 seeds per every pound of bentgrass seed. This is one of the big reasons that bentgrass likes to "creep", hence the term, "creeping bentgrass", which is also why you get such a nice full lawn so quickly with bentgrass.
Now, some may take exception with my number of 8,000,000 seeds per pound; some feel there are more like only 4,000,000. I am not sure if anyone has actually sat down and counted them out, but it may vary between different kinds of bentgrass.